Millennium Needleroll Pattern
Designed by Jenn Vanderslice
Copyright © 2000 Jenn Vanderslice
---
This is my first attempt at designing in huck weave and my first attempt at a needleroll. After you look at the picture and the pattern, I ask that you answer my poll. I'm considering designing a dated needleroll for next year and would like your opinion. Thank you :-)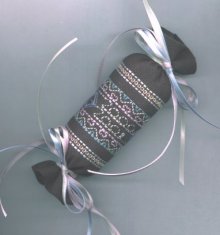 Materials:
7.5" X 9" black aida cloth-16 count
DMC: 597 Turquoise, 746 Off White, 754 Light Peach, 762 Very Lt. Pearl Gray, 809 Delft Blue, 3609 Ultra Lt. Plum, 3746 Dark Blue Violet, 5283(metallic silver)
Tapestry needle: size 22
Nylon beading cord
1 yard of 1/8" wide ribbon (lt. blue, lt. pink, off white)
*note-red dot marks center in pattern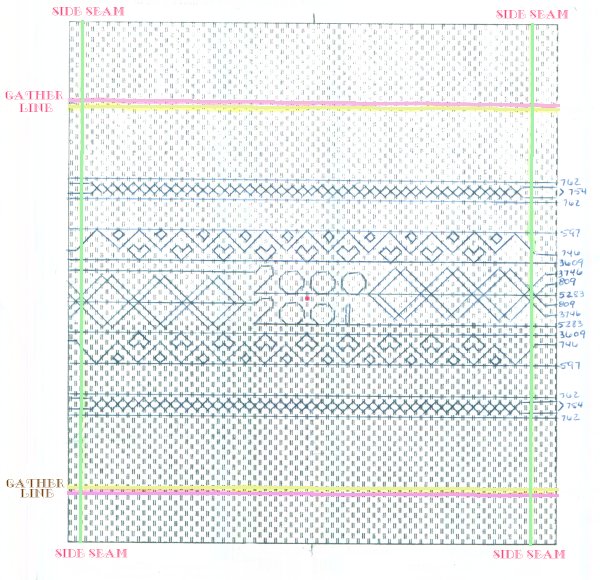 Preparing top/bottom hems
1. With front facing, count up32 rows from last embroidered row and fold to wrong side.
2. Count up 8 rows from first fold and fold to wrong side.
3. Count up 7 rows and trim excess.
4. Hem stitch on wrong side, catching only floats and not piercing fabric.
5. Repeat steps 1 thru 4 on lower edge.

Finishing
1. With wrong sides facing and 1st and last rows of embroidery matching, sew up side seam. Trim seam.
2. Turn right side out.
3. Using nylon beading cord gather at either end (see diagram)
4. Use 18" of all three colors of ribbon to finish off at either end.

---